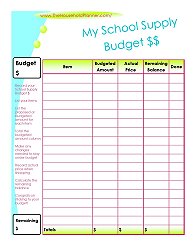 Here is one way to teach your older kids about real life budgeting. If money is tight in your household right now, this will be especially helpful in showing your kids how to create and follow a budget. Sometimes it's hard for kids to understand that we only have so much money to spend and why they can't have the most expensive items on the shelf, by doing the shopping themselves they will surely get the idea!
Let your kiddos create their very own back to school budget, they can be in charge of listing their supplies and proposed prices and will have to make any necessary changes to stay within their budget.
Then they can do the actual purchasing, record actual prices and calculate the remaining balance.
An extra incentive would be if they were able to keep whatever is left over…they might decide that the cheaper generic notebook is not so bad! I'm sure some of them will get very creative (or dare I say… frugal) and may even start treasure hunting around home first to see what they can find! Maybe they don't need new pencils or pens since they have a drawer full at home:)
Here are a few ideas to help your Teen/Tween Budgeting 101 go smoothly:
Mom or dad will have to do some research here to come up with an amount that the kids can spend on school supplies (My 13 year old stepdaughter got a list form her school totaling $36 , this does not include a backpack, we plan to giver her $40)
On a piece of paper or you can download the My School Supply Budget, have your child record their budgeted amount of money they can spend.
Have them list all of the school supplies they need
They should list the proposed or budgeted amount for each item (this can be done at home by checking the prices in the local flyers or online)
Then calculate the budgeted amount to see if they are under or over budget
Make and necessary changes, like removing items or lowering prices to stay under budget
Head off to the store with their list and a calculator
They can record the actual prices while they are shopping
Calculate the remaining balance (that they can keep or put into savings)
Yeah! Give them a pat on the back for sticking to their budget!
Please share your tips for Back to School Shopping with Teens & Tweens!
Tags: back to school, kids, Parenting, saving money