Clothing our kids these days can get to be a pretty expensive task! You can easily spend your whole month's grocery budget on a couple of stylish outfits! I'm not saying that I have done this and I hope you have not either, but when money is tight you have to be creative.
Stocking up on clothing throughout the year is a great way to spread out the cost and you will also be able to find some fabulous deals!
My favorite ways to get great prices on kids clothes is shopping the End of Season Clearance Sales, eBay and Garage Sales!
1.Stock up on Kid's Clothes with End of Season Clearance Sales
You can get some amazing deals on new clothes when you buy your child's next year's summer clothing at the end of this summer! Just buy the next size up and store it for next season. You can get even better prices when you take advantage of the store's sales, coupons and incentive programs.
I never set out shopping without being armed with some great coupons:) You can get your favorite store coupons by signing up for their mailing list, having a store credit card, searching online for printable coupons or online coupon codes. I have even purchased coupons on eBay.
If you shop online, you can get a little money back by using a rebate site like EBATES (you visit EBATES first and then go to your store through their website and earn cash back on your purchases, they also post coupons on their site).
Plan of attack: Get a coupon, wait for a storewide sale, shop end of season clearance items, use store credit card to save on shipping, earn rewards or additional discounts and save lots of money!
2. Stock up on Kid's Clothes from eBay
I love eBay! I have been buying and selling on eBay for years, I have found some fantastic deals and have had good luck with selling also. I always sell my kids' excellent condition name brand clothing on eBay since I can get more money for them on eBay than at a garage sale.
I also buy gently used clothes for my kids on eBay. I am always on the lookout to get MORE FOR MY MONEY, so I look for excellent used condition (EUC) clothing LOTS, which just means a group of clothes vs a single item or two. You will "usually" pay less per piece when you are bidding on a 20 piece lot, generally the more pieces in the lot…the lower the price per piece.
You can pay $20-30 for a cute name brand outfit, plus shipping, or you can usually find a 10-20 piece lot for the same price!
Shop the off season or end of season items for the best deals.
eBay tip: when you are shopping for Back to School clothes for the kids, add BTS (back to school) to your search terms and you will find lots of sellers who usually have great deals, multiple listings or shipping specials
3. Stock up on Kid's Clothes from Garage Sales
This is my favorite method and where I do the majority of my Back to School Shopping for clothing for my kiddos and it is by far the cheapest! And since I love garage sales, it is quite fun too!
I love it when I find a pair of adorably embroidered, excellent condition Gap jeans for my daughter for $2! I'm happy to fork over the $2 rather than spend $30 at Gap or $10-$15 even on eBay.
When I'm shopping garage sales, I will buy the next 2 sizes up for my kids, maybe even 3 sizes if I find something absolutely adorable that will not go out of style.
Plan of attack : find the good sales in your area in advance by checking the local newspaper, check local spots where people can post flyers, online resources like www.craigslist.com or www.garagesalestracker.com.
Storing your Stockpile of Children's Clothing
When you have an ever growing stockpile of clothing for the kids, you have to have some type of system in place to keep it contained and organized. You have to find something that works for you.
I keep a few storage totes or tubs for each child under their beds (these could be stored anywhere you have the room, ie. closet, storage room, garage, basement).
They are labeled:
fits right now – this usually contains the off season clothing
too big- you might have 2 totes for this category and can arrange them according to size or season
too small – here you can put all of the too small items, I sort my too small items by placing whatever I will sell at the garage sale in a plastic garbage labeled "Garage Sale-Child's Name" and I keep all of the clothing I will sell on eBay in the storage tote.
storage tip: don't write the size on the label because they grow so fast, you will constantly be changing the size
Here are a couple of templates for your to make your own storage labels, you can print these out on paper and tape them on or you can print these on the Avery Shipping Label 8164 to make stickers.
Avery 3-1/3 x 4 Mailing Labels (8164)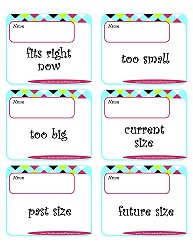 Please share your favorite tips for getting the best deals on kid's clothing!
Tags: Add new tag, back to school, getting organized, kids, saving money