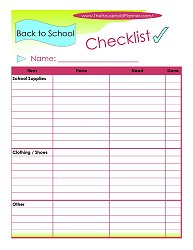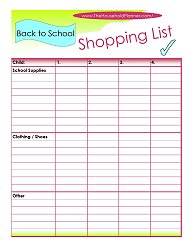 Download the free printable Back to School Checklist & Shopping List and make your back to school treasure hunting a little easier!
I am somewhat new to the whole back to school craze since my kids are younger. This year I will have 2 kids going to school and I am already trying to get myself organized for this endeavor! I have been stocking up on fabulous garage sale finds in regards to clothing and such; now I feel like I need to take inventory so I know exactly what I have and what I still need. If you know me at all…you know I LOVE lists, so I made up some Back to School Lists!
You can use the Back to School Checklist to record all of the school related items that you already have, the items that you still need and then check it off your list when those items are taken care of!
You can even add special tasks in the Other section, such as: get a haircut, get a check-up, visit the dentist. Use a separate checklist for each child.
Use the Back to School Shopping List to list all of the school related items you need to purchase. You can add up to 4 kids on this list, which will make your shopping a little more organized and easier!
Tags: back to school, getting organized, kids, Parenting